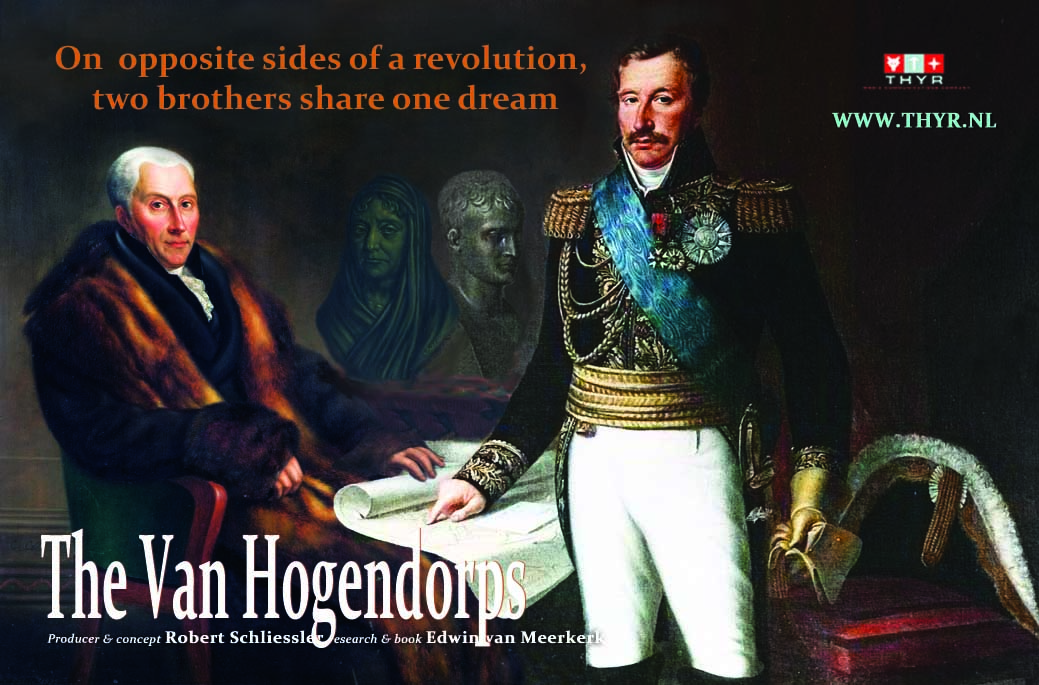 Hogendorp Brothers TV Series
On  opposite sides of a revolution, two brothers share one dream
A TV series that plays out as a battle of brothers on a global stage: it moves from Western Europe to the United States, from South Africa to South East Asia, from Russia to Brazil. The brothers Van Hogendorp were swept up in a storm of revolutions that shaped the world for centuries to come. Though Dirk and Gijsbert Karel grew up together, they ended up on opposite sides of the Napoleonic Wars. Both their public and their personal lives were torn apart by conflict.
But this is not just a story of changing political tides. Both brothers' lives are marked by great personal drama. Dirk was forced to witness the love of his life get married to another man, then later had to leave his newly pregnant wife in a besieged city and ended up losing his whole family. Though he was father to ten children, Gijsbert Karel's sexual orientation has intrigued some historians at least as much as his political leanings. Probably he also had a secret affair with Wilhemina of Prussia, who was, in several respects, more of a man than her husband Wiliam V. In the end, their personal demons proved as vital to Dirk and Gijsbert as their political convictions.
The Van Hogendorp Project wants to breathe life into a turbulent time in history, whose triumphs and mistakes haunt us to this day, burning under our political conflicts. The project consists in a historical study, De Gebroeders van Hogendorp (Atlas Contact, 2013), a play (2012), and a professional theatre production, which had its premiere in the Royal Theatre in The Hague in March 2014. This TV series would be the crown on that work, opening the eyes of an international audience to the thrilling story of two brothers and their times.
The older brother, Dirk, seemed born for trouble. As addicted to dueling as he was to gambling, he was also a real-life war hero. He worked himself up from governor to ambassador to minister, found a place for himself as the right hand of Napoleon and almost achieved royalty as king of Lithuania – only to fall deeper than ever when he was accused of mass murder. Was it a fatal flow in his character or his startling, modern ideas that ended him up as a poor farmer in Brazil, stuck on the hill where the statue of Christ now stands?
The younger brother, Gijsbert Karel, had a splendid start as a man of books, surrounded by queens and kings, visiting with American presidents, but ended up the laughing stock of Dutch politics. As a business's man he failed, helped the poor with soup and lost himself in obscure cults. Then a new political tide swept him up to the post of prime minister, with his own design for a modern Dutch constitution. He invited the Prince of Orange to return from London to become the first king of the Netherlands, then found himself more and more in opposition to the despotic tendencies of King William I.
Those who can not forget their past are condemned to repeat it, even on holiday.
Le Camping pilot
TV/VR series concept (12 x 23 min) nominated for the European democracy award
Pilot for an educational TV-series and internet platform. Plugging an international an educational TV-series and internet platform.
Co-Producer, Writer and Director – White Bull / THYR (2007-2009)